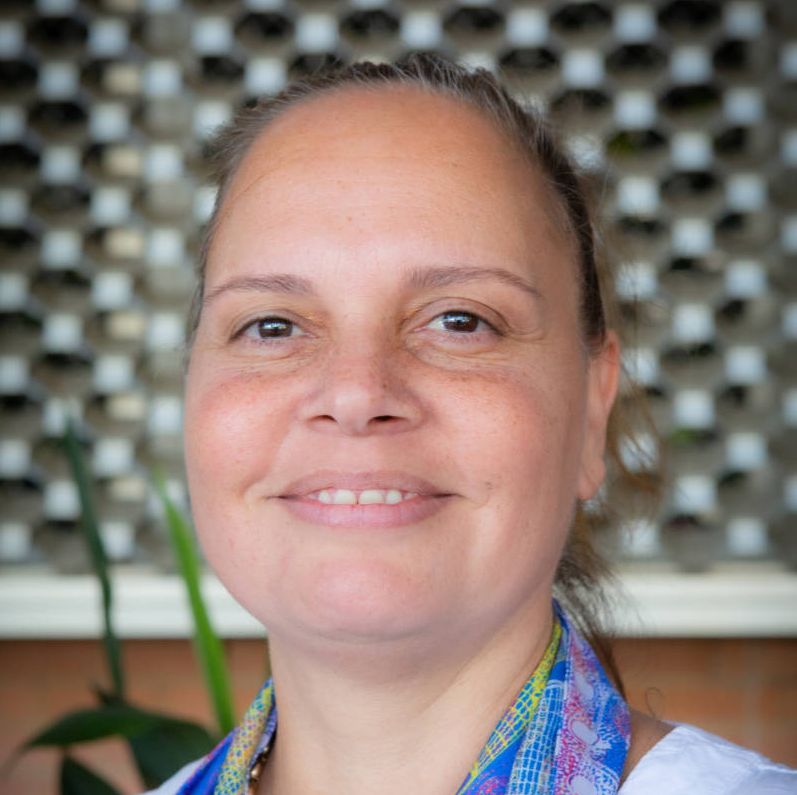 Artist Member
Lisa Michl
Kokotharpal
Painting on all media; Editioned prints; Weaving
Artist Member
Lisa Michl
Kokotharpal
Lisa Michl Ko-manggén (OAM)
Born: 1977 in Cairns, Queensland
Language Group: Kokotharpal
Clan Group: Kokoberrin
Area: Central Western Cape York Peninsula
Homelands: Pinnarinch
Community: Cairns - Kowanyama – Normanton
Clan story place: Water Fairy
Totem Name: Ko-manggén

Lisa Michl is a celebrated Kokoberrin artist from Central Western Cape York Peninsula in Queensland Australia. Lisa is of the Kokoberrin language group and her homelands on her mother's and grandmother's side are known as Pinnarinch and stretch between Staaten River National Park in the south and north to Nassau River, including Wyabba Creek and Dorunda Lodge area.

The beautiful and remote lands of Pinnarinch encompass several important Clan Story Places with Komanggén being one of them. In Kokoberrin language Ko-manggén means "Saltwater catfish". This totem name was given to Lisa by her great grandfather, the most senior Kokoberrin elder and lore man. Today the Kokoberrin reside mainly in Kowanyama, Normanton and other north Queensland communities where strengthening and maintaining cultural practice is achieved through a variety of activities.

On her father's side, Lisa has links to the Czech Republic in Europe where her extraordinary paintings have been exhibited to wide acclaim. Lisa's beautifully coloured earth tone paintings present intricate forms and bold designs that have found favour among collectors in the USA, Canada and Europe. Closer to home, Lisa has shown her works in prominent Australian exhibitions such as The RAKA Award, Story Place, Indigenous Art of the Cape York & Rainforest and Cairns Indigenous Art Fair and her works have been selected for the prestigious National Aboriginal and Torres Strait Islander Art Award.

Lisa has been practicing visual arts for 23 years and over this time her works have been inspired by her memories of time spent on country with her Kokoberrin family. Lisa's artworks can be found in the collections of the Australian Embassy in Germany, Australian ArtBank, National Gallery of Victoria, Queensland Art Gallery, Parliament House and Cairns Regional Gallery and Pullman Cairns International.
---
Contact details
QLD
lisamichl@bigpond.com
Search Artists, Dealers and Supporter Members
Featured artist Members
Want to become an artist member?
Do you have more questions?
Do you need further advice and support?